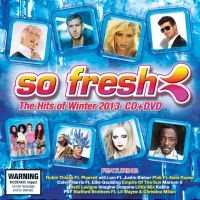 The Hits of Winter 2013
So Fresh The Hits of Winter 2013 is here! It's got 20 of the hottest hits from the hottest stars including Robin Thicke Featuring Pharrell, will.i.am Featuring Justin Bieber, P!nk Featuring Nate Ruess, Calvin Harris Featuring Ellie Goulding, Stafford Brothers Featuring Lil Wayne & Christina Milian, Avril Lavigne, Imagine Dragons, Little Mix, Ke$ha, Empire Of The Sun, PSY, Maroon 5, Kelly Clarkson, Chris Brown, Duke Dumont Featuring A*M*E, Sebastian Ingrosso & Tommy Trash Featuring John Martin, Hot Chelle Rae, Carly Rae Jepsen, Selena Gomez & The Script. You can get the CD + DVD edition which includes 12 of the hottest videos! Or you can get the special edition on iTunes which includes 2 extra tracks!
So Fresh: The Hits Of Winter 2013 is the only album you need this Winter!
Robin Thicke Feat. Pharrell - Blurred Lines
will.i.am Feat. Justin Bieber - #thatPower
P!nk Feat. Nate Ruess - Just Give Me A Reason
Calvin Harris Feat. Ellie Goulding - I Need Your Love
Stafford Brothers Feat. Lil Wayne & Christina Milian - Hello
Avril Lavigne - Here's To Never Growing Up
Imagine Dragons - Radioactive
Little Mix - Change Your Life
Ke$ha - Crazy Kids
Empire Of The Sun - Alive
PSY - Gentleman
Maroon 5 - Love Somebody
Kelly Clarkson - People Like Us
Chris Brown - Fine China
Duke Dumont Feat. A*M*E - Need U (100%)
Sebastian Ingrosso & Tommy Trash Feat. John Martin - Reload
Hot Chelle Rae - Hung Up
Carly Rae Jepsen - Tonight I'm Getting Over You
Selena Gomez - Come & Get It
The Script - If You Could See Me Now